Introduction
A number of trampoline parks are experiencing a higher risk of failure due to today's growing competition in the entertainment industry. Many parks are achieving great success by expanding the customer's experience with adding such things as food, beverage, arcade, laser tag, and other attractions. These additions result in an influx of new customers who may have not considered attending trampoline attractions before. This growth causes the natural transformation into a trampoline-anchored family entertainment center, or FEC, from just a trampoline park.
The core factors for generating revenues in a trampoline park are: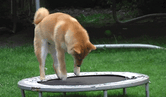 Bigger square footage
Keeping customers engaged longer
Increase repeat customer visits
The current model of trampoline parks keep customers engaged for an hour and a half on average. The FEC industry is retaining a customer engagement for two and a half hours per visit for several decades. Trampoline Parks need to diversify their attractions to retain customer engagement.
In this eBook, Delta Strike will be showing a case-study of adding laser tag to an existing trampoline park
What is Laser Tag?
Laser tag is a live entertainment game where players wear an electronic vest with an attached phaser inside a specially built arena. Most trampoline park's target demographic are children aged 6-14. With this in mind, we have designed our product to be easy to use and offer a quick turnover- resulting in maximized profits for your facility!
A laser tag game is normally 8 to 15 minutes long. There are typically two teams, and a game can have anywhere from 2 to 40 players participating at the same time.
Laser tag is a highly attractive and marketable business that is fun and exciting to operate. It can provide a fast Return on Investment (ROI). Below you can find an example of ROI calculations for a 24 phaser system, which will help you prepare your business plan.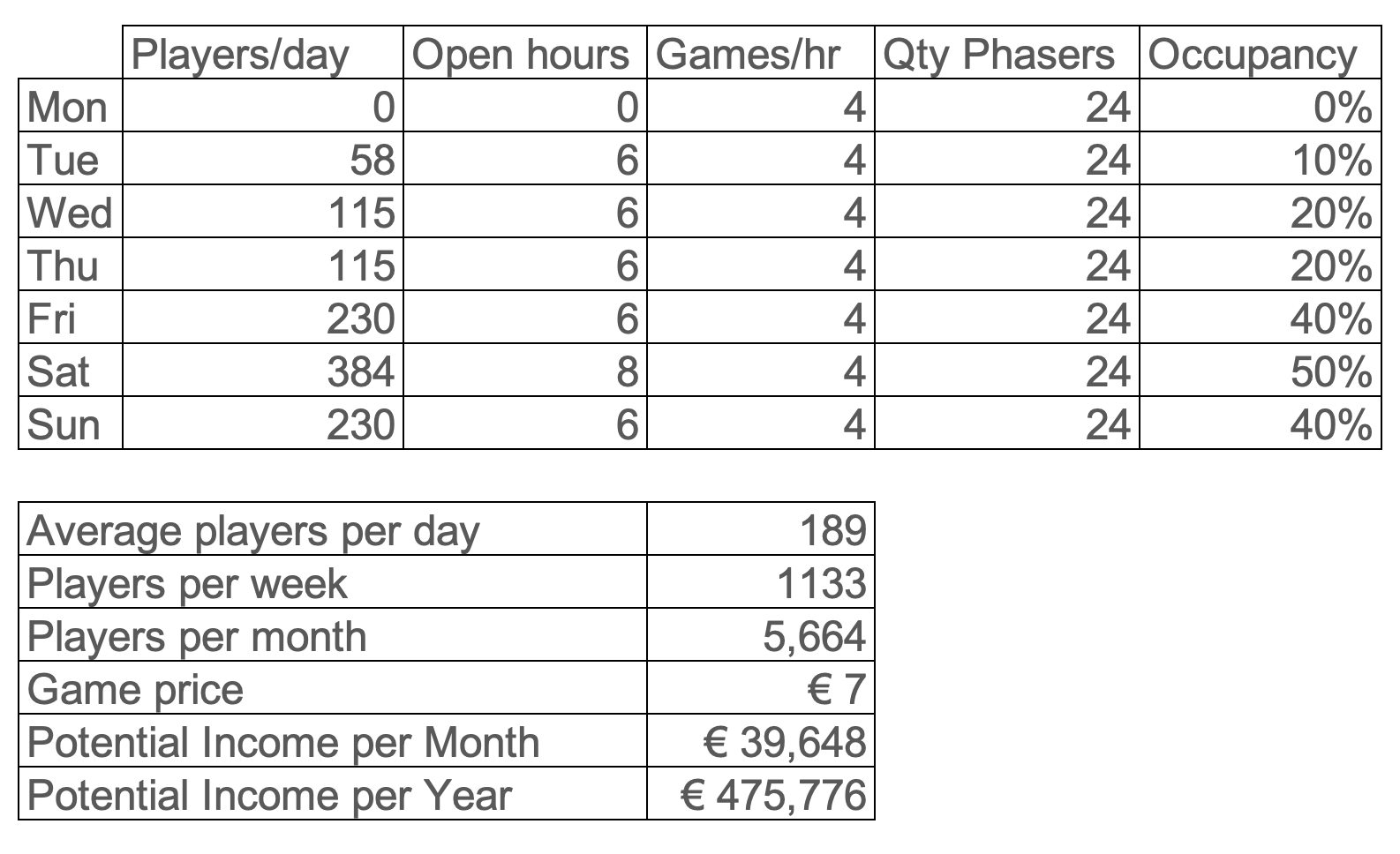 How much space do you need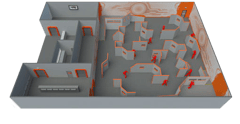 An Important factor in expanding your trampoline park into a trampoline-anchored FEC is to understand the most efficient way to use the space you have available. Here are our recommendations on how much space you need based on the total number of park visitors per month.

Pro Tip: You are looking at about 11.5 sq. meters per player for the arena.
Equipment and software
To provide a great laser tag experience for your clients you will need:
Vests and Phasers (guns)
Charging stations
Arena elements (targets, bases, energy gates)
Server to host the games
Software to track the game and demonstrate results to players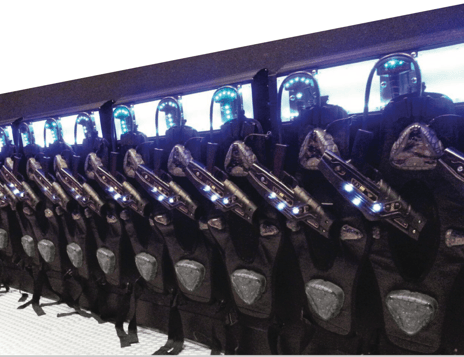 You can find a detailed description of Delta Strike's equipment in the brochure.
Building Arena. General info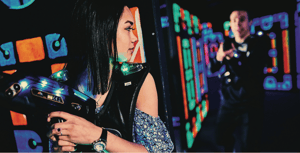 Laser Tag Arenas have walls and partitions placed to create fun, interesting places for players to hide and strategize their game play. The playing area itself normally has low light levels with ultraviolet lights and/or LED lighting. To create a really immersive experience, glow-in-the-dark paint, strobe lights, music, haze machines, and interactive arena components are also utilized. Often the arena is highly decorated with a theme, like outer space or lost temples, to create an out-of-this-world experience.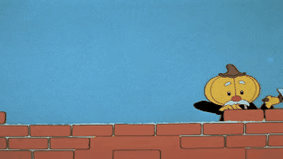 When it comes to choosing an arena design, trampoline parks have a significant advantage. Compared to stand-alone laser tag centers who need an outstanding arena design to be successful, trampoline parks only need to provide a reasonable quality arena for their customers to be happy since it is considered as an extra to the main attraction.
Which Arena to choose
Inflatables Arenas can be used as arena elements or as a fully-enclosed inflatable laser tag arena. This solution can be the easiest and probably the cheapest. Inflatables ensure the minimum required customer satisfaction level. A downside is that you are unable to attach targets to the inflatables themselves and they can only be a single level. This method is widely used among mobile attraction providers, event agencies, and some trampoline parks.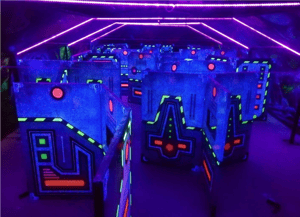 Modular arenas is probably the closest solution to a permanently built arena. The modular arena is constructed from separate panels which are bolted to the floor, portable sound, and lighting systems. The great advantage of the modular arena is that it can be both permanently bolted and movable.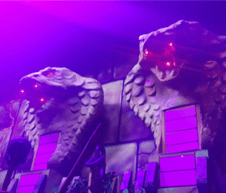 Permanent arenas are the preferred arenas for laser tag. They allow companies to be as creative with a theme and props. This gives customers a more in depth video game like experience; built using construction materials which help create a better look and a great longevity. Permanent arenas allow for targets to be mounted almost anywhere in the space allowing more prop integration like sounds, fog, and lights.
Operations
Staff
Most trampoline parks hire staff based on social skills; they typically don't hire for technical knowledge. The staff may also only work with the Laser Tag operation occasionally to help during busy times or relieve other staff members during breaks. Your staff will require three main things to ensure great customer experience – ease of operation, automation, and ease of repair.
Ease of Operation
When sourcing your equipment, ensure that you understand every detail of how your staff will operate the Laser Tag system and that operations will be as straightforward as possible. Be sure that your system is easy to use and provides a fast start the game, this will affect how fast your throughput is and your revenues during busy hours overall.
Delta Strike achieved an incredible solution which resulted in allowing an operator to prepare and start a game in under three minutes.
Automation
The key is automation. Delta Strike's software runs in the background controlling the whole game process. The operator doesn't even need to be behind a computer to use the software as everything can be activated from the remote.
Easy to Repair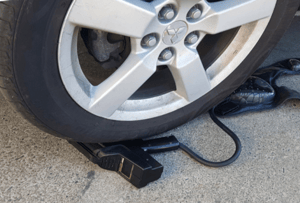 When choosing your new system, pay attention to reliability and ease to repair. Broken phasers not only will cost you to repair, but also will not earn you money. It needs to be fixed fast.
Phasers and vests can be smashed against walls, dropped on the floor, sweated on, given the "tug of war" treatment, and are sometimes even vandalized. While your equipment supplier will hopefully have worked very hard to build a reliable laser tag system that is extremely tough, at some stage equipment will need to be fixed and repairs need to be as easy as possible for your staff.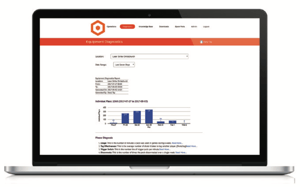 Look for plug and play spare parts replacement, labeled sockets, introduction training for staff, easy to use manuals, and no stress wireless upgrades to a software. Delta Strike's web portal offers equipment diagnostics, operational reports, and online ordering for spare parts which makes life simple for remote managers or for owners of more than one center.
Revenue maximization
The most important thing for adding Laser tag – it makes more money.
Most money is made during your busiest days, which are the weekends. The challenge facing trampoline parks is that these periods often get booked out and you are turning people away. A Trampoline -anchored FEC owner that has laser tag needs to focus on simple 'through-put' i.e. getting players in, through, and out of the arena as efficiently and swiftly as possible. On your busiest days, any downtime in the arena is lost income.
'Through-put' is determined by these three factors:
The number of phasers you have in your center will obviously depend on the amount of area you have available.
In a laser tag anchored facility, the game times are typically between 10 and 12 minutes long. However in a multi attraction facility, it is common for games to be 8 - 10 minutes. The diverse attraction mix allows for shorter game time and higher volume of your attraction.
Turnaround time between games
This is one of the most critical piece to maximize revenue. There are a couple decisions you must make that will impact turnaround time.
Doing a combined briefing and vesting room verses separate areas.

By separating the briefing and vesting rooms you will be able to have one group exiting the game and hanging their vests up while the next game is simultaneously being briefed on the game. Once the first group has exited the vesting room, the second group moves in to put on their vests and start their game. This will ultimately save 3 - 4 minutes per session and increase your overall capacity.

Queue Lines vs Schedule Game Times.

Many trampoline anchored facilities opt to go with queue lines verse scheduled games. This ensures they are running games very frequently, although typically with fewer players which slightly diminishes the game experience. By increasing the sessions a guest participates in with their admission price, their value perception will also increase. Most participants have a cost understanding of a session of laser tag. So if they are able to get 3 sessions, albeit 8 minute games, their perceived value could be as high as $24.00. This makes the attraction a huge hit with the guests
Conclusion
At the end of this paper we would like to share some facts from Trampoline parks using Delta Strike's system:
ROI period: from 12 to 18 months
Income per sq.m.: from EUR 110 to EUR 170 per month
Approximate retention rate growth: 3-6%
Time spent on site per customer growth: up to 50 min
The combination of all the financial factors makes laser tag one of the most attractive additions to a trampoline park.
Thank you for your interest !
We hope this paper has been helpful and informative. There are many other white papers that can be downloaded free of charge from the Downloads section of our website.
Request our special offer now!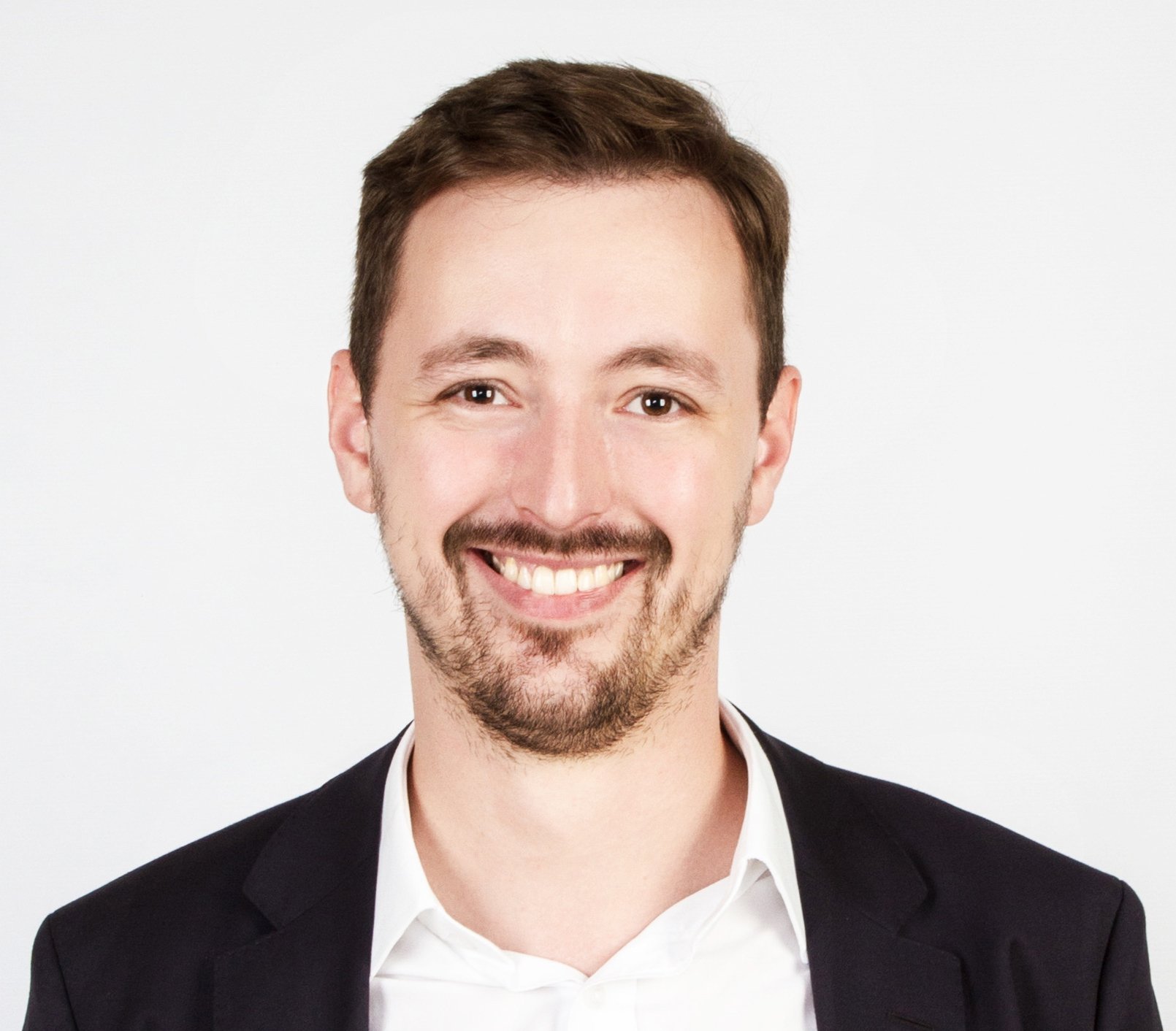 Alex Protsenko
Business Development Manager
Email: alex@deltastrike.com
Skype: alex.protsenko@deltastrike.com
Mob.: +49 170 447 95 64